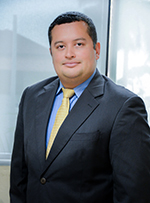 Carlos Eduardo Ábrego Escala
Mr. Abrego has a strong educational base. His undergraduate and postgraduate studies where obtained in Panama city, Panama, including his Degree in Law and Political Science and a Specialization in Advanced Teaching from the University of Panama in 2008 and 2009 respectively. His cultural background has been influenced by Panama's cosmopolitan nature and convenient geographical position. He is also a member of the Panama bar association.
Asia has played an important part of Mr. Abrego's formation as he obtained his Master's Degree in International Business Law from the National University of Singapore, taught in Singapore and Shanghai, China. As a result, Mr. Abrego has had direct contact with South and Eastern Asia, were he learned about different cultures and languages that broaden his understanding of what Asia means to the world and the advantages of making strong and lasting connections supported by a reliable friendship.
As an author, Mr. Abrego published "A practical view of income tax allocation on double tax agreements based on the Panama-Singapore Double Tax Agreement" on the Latin American Regional Forum Newsletter of the International Bar Association (2011) and "La Compraventa Internacional en el Ámbito del Transporte Marítimo" (2008) as his thesis.
Thanks to this, Mr. Abrego has been able to apply all his academic and cultural skills to offer his clients the best possible service as an Associate Lawyer at the firm, where he joined with a vision of a globalized legal profession and always open for new business opportunities.
He speaks Spanish (native), English (fluent), and Mandarin (Conversational).