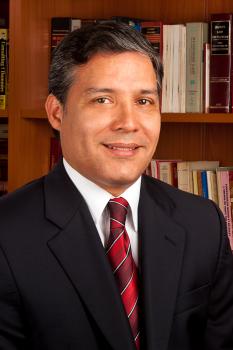 Born in the City of Panama, Republic of Panama, on December 28, 1965. Education University of Panama (Bachelor of Law and Political Science, 1987).
Attended seminars from the Industry of Protection of Cultivations of Guatemala and Costa Rica in the field of Health Registration.  Currently he offers seminars  on Regulatory Law and Industrial Property to lawyers in the region of Central America.
He is member of the Panamanian Association of Industrial Property Law, President of the Panamanian Association of Regulatory Law and the Panamanian Association of Pharmaceutical Manufacturers. He was President of the Insurance Law Commission of the National Bar Association from 2004 up to 2007, and he is member of said Commission, as well as Consultant of Crop-Life International.
He was the Representative of the National Association of Agricultural Raw Material – Distributors – ANDIA – in the field of Intellectual Property in the fourth annex of the  negotiations on the Free Trade Treaty with the United States of America.
As a lawyer he has participated in processes related to Health Register issues representing important trademarks like Pepto Bismol, Regulador Gesteira, Cremastèn, Antiflu-Des, Old Spice, Miss Clairol, Helen Curtis, Cover Girl, Gillette, Max Factor, Roger Gallet, Neutrogena, Gastrigel, Pert Plus, Head & Shoulders, Uropen, Uroflox, Sar, Sábado Sensacional, CV Pharmacies, and others. He has also participated in Industrial Property processes, representing different famous trademarks.
He has offered legal consulting and service related to Regulatory Law to important firms such as Bayer CropSciences, Monsanto, Duwest, Dow Agrosciences, Pilarquim Corp., Procter & Gamble, Laboratorios Rigar, S.A., Laboratorios Rousell-Uclaf, The Wellcome Foundation, and others.
He is author of:
El Derecho Regulatorio en Panamá
Demandas de oposición en contra de solicitudes de registros de productos para la protección de cultivo
Procedimiento para la obtenciòn del registro sanitario para productos farmacéuticos en Panamá
Derecho regulatorio y propiedad industrial en países de Centroamerica.
Áreas de Práctica: Derecho Regulatorio, Propiedad Industrial, Derecho Corporativo, Asuntos Migratorios, Fundaciones de Interés Privado.
He speaks Spanish, English and Italian.or in Panama from Spanish to English, French, German, Italian and vice versa. Paralegal in one of the biggest law firms in Panama (1990-1994), associate lawyer of the same firm (2000-2005). Member of the National Bar Association.
Languages: Spanish, English, French, German and Italian.
Areas of practice: Offshore Structures, Private Interest Foundations, Offshore Services, Immigration Law, Trademarks, Yacht and Vessel Registration, Sanitary Permits, Corporate Law, Civil and Commercial litigation, Labor Law