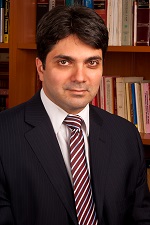 Graduated in 1995 from the University Santa Maria La Antigua as Licentiate in Law and Political Science. His thesis was entitled "la undue influence como vicio del consentimiento en el derecho civil panameño. Ensayo de una teoría general." Admitted to the Bar in 1995. Diplôme supérieur d'université (troisième cycle), Droit Civil, Obligations, University of París, 1997. Diplôme d'études doctorales, University of París 2000, mention très bien, thesis : « La responsabilité des tiers complices dans la rupture d'une obligation contractuelle dans le droit panaméen ».
As attorney, Dr. Lombardi has worked in the areas of litigation, labor law, public procurement law, civil law, international business transactions, and corporate law matters in general. Among said transactions are serving as:
Counsel for a large German architect and engineering firm awarded a $105 million contract for construction of a second bridge in Panama.
Counsel for multinational Spanish banking institution in a multi-million dollar litigation.
Counsel for US multinational banking institution in enforcement in Panama of a US court decision on Panama assets.
He served as Vice president of the Association of Law Students, University Santa María La Antigua in 1994 and as President of Association of Students, Robert Garric, Cité Internationale Universitaire de Paris during 1997-1998. Dr. Lombardi was Professor of Civil Law in the post graduate Program of the University of Panama in 2001 and currently is Professor of International Contracts, Post graduate and doctorate program, University Santa María La Antigua, from 2004 to present. He serves as Vice president of the French Alliance in Panama starting in 2002 to present. Dr. Lombardi is Comptroller of the Board of Directors of the German Panamanian Chamber of Commerce, 2002 to present. He also served as Spokesman and member of the Board of Directors of the Panama Bar Association, 2003-2005 and 2005-2007.
He is the author of:

"Les droits des minorités en droit panaméen". Association Henri Capitant, Journées Mexicaines, 2004.
"La responsabilidad del hecho de la cosa en el derecho panameño." Revista Lex. 2001.
Panama Chapter on Labor, Commercial, Civil, Procedure and Company Law. E-iure, Compendium. 2003- 2004.
Panamanian Health and Medications Registry. Martinadale-Hubbell. 2001-2004.
Certified Public Translator in Panama from Spanish to English, French, German, Italian and vice versa. Paralegal in one of the biggest law firms in Panama (1990-1994), associate lawyer of the same firm (2000-2005). Member of the National Bar Association.
Languages: Spanish, English, French, German and Italian.
Areas of practice: Offshore Structures, Private Interest Foundations, Offshore Services, Immigration Law, Trademarks, Yacht and Vessel Registration, Sanitary Permits, Corporate Law, Civil and Commercial litigation, Labor Law